10 Best Places For New Years Eve 2021
New Years Eve is one of the few events that seems to be celebrated and cherished on every corner of the globe. Mandarin speaking accountants and English speaking used car salesmen share an appetite to gather with loved ones, or fun strangers, and shout the 10...9...8 countdown in unison.
Traditions vary across the globe, whilst we might find it good luck to kiss someone as the clock strikes twelve, it seems other countries have different traditions to bring them good luck in the coming year.
View this post on Instagram
Did you know in Spain they eat grapes for good luck, in Brazil they throw white flowers into the ocean (which makes for a beautiful site in cities like Rio), in Italy they wear red underwear to signify fertility in the hope it'll help bring them offspring and in Ecuador they burn scarecrow effigies!
The year is drawing to a close, the clock is ticking and your new year's resolutions are ready to be smashed out of the stratosphere… but where will you watch the ball drop? Don't worry, you'll usher in a fresh 12 months of travelling awesomeness by heading to one of the destinations on our 10 Best Place For New Years Eve 2021!
1) Tokyo
View this post on Instagram
Yokohama in Tokyo hosts one of the most luminous New Years Eve Celebrations the world over, with enough LED flashing lights to forego the fireworks altogether and still be dazzled by the sites. It's slightly outside of central Tokyo but it gives a little more room to breathe and dance the night away.
In a traditional ceremony of sorts, the monks of the nearby temple ring the bell precisely 108 times in belief that this will help cleanse you! There's no better way to look to a brighter future than to celebrate NYE in a city that hosts the tech of tomorrow.
2) Las Vegas
View this post on Instagram
The capital of casino's and bad decisions is unsurprisingly one of the most insane parties imaginable for new years eve. Despite being famed for it's gambling and late night shenanigans, there's actually a rich array of suitable family activities and hotels to stay in so this isn't just a great place for the party animals among us.
The Vegas Strip is already an electric centre of celebrations regardless of the time of year, but almost 300,000 spectators take the atmosphere up a notch for NYE. If you want the most epic party imaginable to start the year of with a bang then look no further.
3) Berlin
View this post on Instagram
Berlin is a bohemian beauty of a city break, but the 1.8km stretch between Victory Column and Brandenburg Gate hosts 1 million visitors annually for it's epic new years eve celebrations. There's not just fireworks and booze however, Berlin has other tricks up its sleeve as you can find scrumptious street food and even Magic Shows! The dance party at the Berlin Tv Tower is the coolest place in town if you want to boogie with a view.
4) London
View this post on Instagram
As one of the cultural capitals of the world, it's no surprise London ranks highly in regards to the most epic NYE destinations. The banks of the Thames, overlooking Big Ben and the Houses of Parliament offers the most elaborate and exorbitant fireworks display. London's also teeming with epic events from morning to well past midnight on the 31st of December.
Cocktail bars remodelled as prisons where you can spend the new years faux locked up, parties themed in almost every generation from the swinging 50's to the mullet rocking 80's, cruises along the river and almost anything else your imagination can muster.
5) New York
View this post on Instagram
The phrase "when the ball drops" likely comes from the time honoured tradition that begin in New York in 1907. The first ball was made from iron and wood, which wouldn't stand a chance of passing health and safety protocols in the modern age under a barrage of gunpowder laden fireworks!
A suspected 1 million will descend upon Time Square to be rained on by 30,000,000 pieces of confetti at 12:01am! You could also opt to see the turn of the year at the harbour for a more dazzling fireworks display set off from Liberty island.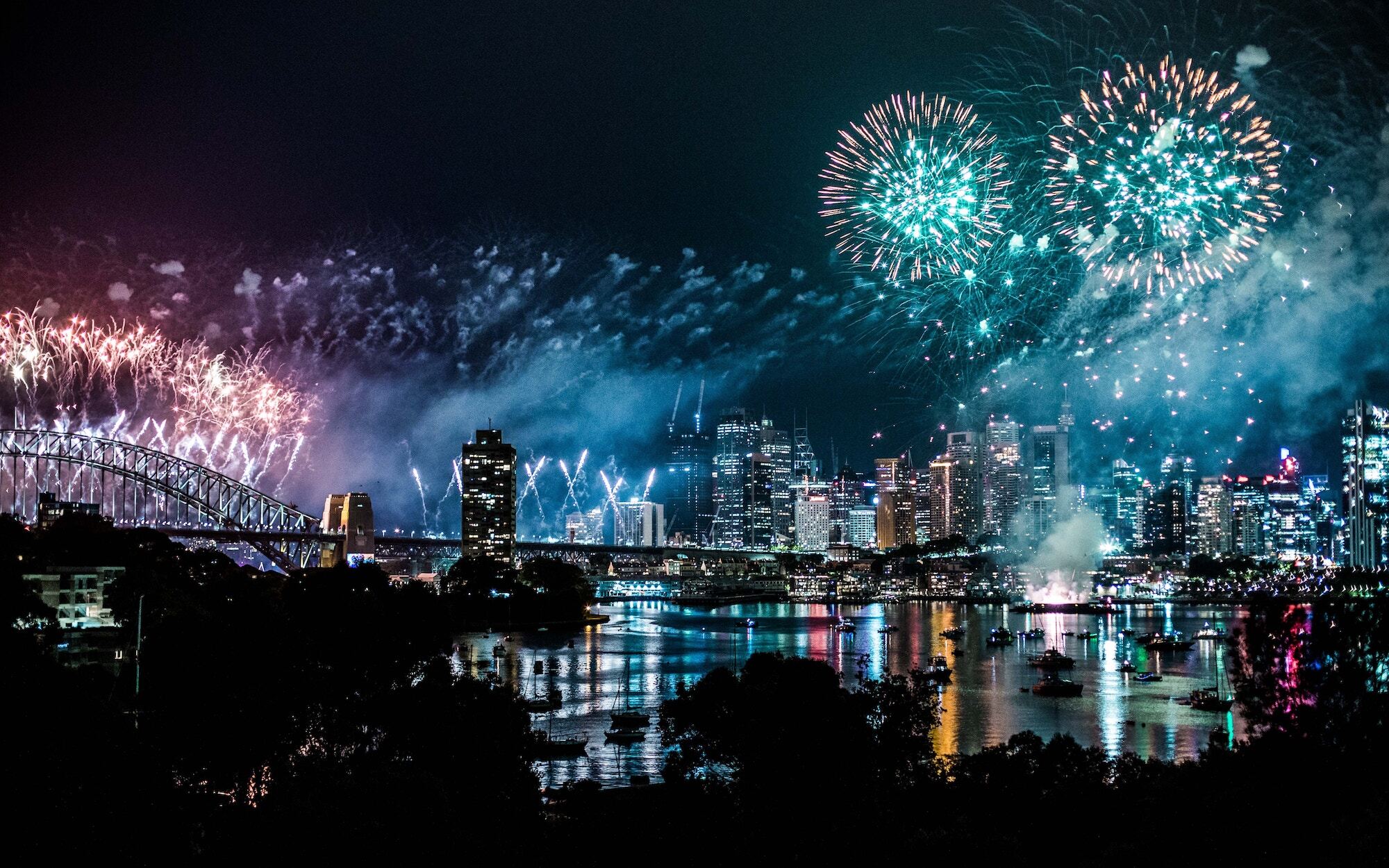 Create A Custom Trip For NYE 2021
The only way to make sure your next NYE party goes off with a bang, is to customise it to perfect and book in advance. That sounds like a lot of work, which is why we've got our travel experts on hand to do all of the organising for you, so all you have to do is click 'book' and bring your party shoes!
Make My Trip
6) Sydney
View this post on Instagram
Sydney harbour is a spectacle in it's own right, but the fireworks display on Dec 31st however illuminate it with a kaleidoscopic array of colours that has to be seen to be appreciated. The aerial flyovers add a layer of dynamism to the displays and for families the events held at the Taronga Zoo are a world of fun to engage in for the kids.
A cruise is also a fantastic activity to indulge in whilst you clink glasses and soak in the moment. Be sure not to miss the Indigenous smoking ceremony.
7) Hong Kong
View this post on Instagram
The first Chinese entry on our list, but the second Time's Square to crop up. HK's Times Square shopping mall is a popular countdown location, but the city is flooded with them. The New Years parade should be top of the list for those with kids to wave the floats by, Victoria harbour is a must if panoramic views are what excites you, a river cruise is perfect if you're into a smoother more relaxed evening and for party animals… the list of possibilities is endless.
8) Edinburgh
View this post on Instagram
Princess Street Gardens is the go to vantage point to catch all the action, and not one to take a party lightly, the Scott's have been generous enough to extend NYE into a three day long festival known as the Hogmanay celebrations. If you like the sound of a Viking procession, concerts, a carnival, and fireworks bursting over a historical UNESO World Heritage castle, then Edinburgh is the NYE party for you!
9) Rio De Janeiro
View this post on Instagram
Rio carries a soulful spirit that is up for beer, beaches and parties any night of the year. You'd be hard pressed to not be invited to a party on a drizzly Wednesday in mid August, so you'll find it impossible to roam the city on New Years Eve without being swept up into a South American storm of celebrations and festivities.
Copacabana beach is "the big blowout" if you're looking for a grand exit to the year. A two and a half mile stretch of golden sand, with vibrant firework colours skidding off the ocean's surface giving you twice the show! Traditionally party goers wear white and toss flowers into the sea, making the tide a white flower filled mirror of fireworks!
10) Kiribati
View this post on Instagram
It might sound odd at first glance, but there is significance in this quaint South Pacific islands at this time of year. This is the first place on Earth to celebrate the New Year, so if you like to stay one step ahead of everyone (even when it's party time) head here!
This is not for party enthusiasts or those wanting an overwhelming display of extravagant fireworks screeching through the black of night and bursting into a plume of exotic colours. This is for people who like peace and quiet nestled within untouched slices of nature. It's also for those who live for odd experiences that others might not be quirky enough or bold enough to try out for themselves. Be sure to book in advance as there are not dozens of flights daily here, and you'll want to secure accommodation ahead of time too.
So there you go, there's our 10 Best Places For New Years Eve 2021. Which will you be visiting for NYE 201?
Create Your Bookitlist
It's been proven that writing down your goals can increase your chances of achieving them by as much as 42%! If you don't have a Bookitlist, you're basically saying your travel goals are not worth 3-5 minutes of your day! Create a travel goalpost for the future and make your Bookitlist TODAY.
Make My Bookitlist