Top 7 British Ridge Walks
Ridge walks are not quite as easy and simple as a refreshing canter across rocky terrain until you wish to take refuge of a nearby tavern with a crackling fireplace. A RidgeWalk is a 52 mile hike along the ridgeways of Britain, within a 24 hour window. That means you'll likely be walking long after the sun sets and adds a lot more challenge to your average waltz in the countryside. Whilst it sounds daunting, the fact it's walking across the countryside mean it's a tonic that injects you with as much energy as it requires to complete.
They are not for the feint of heart, the rocks are jagged and the terrain is anything but familiar under foot but that's the beauty of it. It's a micro dose of adrenaline injected into your usually scenic if a little bland countryside canter.
Most ridge walks don't actually live and die by the 52 miles definition (I can feel your feet thanking us for that sentence already). There are many beautiful ridge walks over much more manageable distances from a few miles upwards. Everyone is fit enough to finish at least one of these ridge walks with enough gusto and a cup of hot java so here are Britain's top 7 ridgewalks.
1) Lake District: Sharp Edge
View this post on Instagram
Sharp Edge is one of Britains best known ridgeway walks in Britain and rewards those who like to live on the edge so to speak. Best to be avoided in high winds to stay on the safe side. Start at Scales Farm and push on towards Blencathra summit for spectacular views. Manageable for first timers and great way to ease yourself into things.
2) Tryfan north ridge, Snowdonia
View this post on Instagram
Snowdonia is a smorgasbord of outdoor adventures with enough to keep even the most caffeine fuelled, insane vo2 max, mega athletic outdoorsy types busy for months. But whilst the regular route up Mount Snowdown takes the cake in regards of most popular walks in the region, there are other routes just as sweet to savour. The circuit of ridge from Glyder Fawr are splendid and offer a range of difficulties and vantage points pluming with panoramic views. Glyder Fact, Bristly Ridge, Tryfan north ridge can be done in an anti clockwise stack and will be more than enough challenge to earn your tea come sunset.

3) Stiperstones, Shropshire
View this post on Instagram
Whilst the Scottish Highlands spring to mind when one thinks of jagged rocks coated in a blanket of mist perfect for a cheek chilling, heart warming ridge walk, Shropshire is a pleasant surprise and should perhaps be in the conversation a little more. With the outlying outcrops of The Rock and Nipstone, Shropshires ridgeways man for a gorgeous 8-9 mile walk. The going can be inconsistent and a keene eye for irregular stones and sharp ditches is a must to avoid rolling an ankle. Th nearby towns of Bishops Castle and Montgomery provide Tolkein-esque taverns to seek refuge in after what can feel like Frodo's trip to Mordoor past rolling hills and slippery stone is complete.

4) Aonach Eagach, Scotland
View this post on Instagram
Outside of Glasgow and Edinburgh, Scotland looks like the product of an experiment by a circle of ludicrously rich hikers who decided to try and create a ridgewnalking Mecca where they could shimmy, shake and saunter their way through until their final days.
It almost feels as if the land is trying intentionally to grow spines made of stone. Aonach Eagach is touted as the narrowest ridgeway in Britain, so bring your balancing shoes. For that reason we don't advise this as your first ever ridge walk, the steep rocky chimneys whilst stunning, require some due diligence to traverse your way around.
5) Crib Goch, Snowdonia
View this post on Instagram
Nestled beside Snowdon, Garnedd Ugain stands a lofty 1,065 metres with rocky outcrops that can deceive those who are not paying it their full attention. The path can be illusive and a careless push on attitude can soon turn into a white knuckle puzzle on broken buttresses. That being said even children as young as 11 can enjoy this walk, it isn't physically demanding as much as it is punishing to those not being vigilant.

6) Striding Edge - Lake District
View this post on Instagram
You'll need a decent set of lungs to make this comfortably. This is certainly a ridge where walkers can fall off without proper care and attention. avoid ice, wind and darkness as there's just no reward for taking the extra risk that comes attached to those conditions. The baltic glacial lake beneath the summit of Helvellyn is a must dip experience. The cold shock proteins and release of neroepinephrine is like an intravenous shot of caffeine without the comedown. Helvellyn also is a fantastic walk for dogs, so if you're looking for somewhere to tire out your four legged friend look no further. Swirral edge is the Siamese twin of Striding edge and is an essential part of the experience. Between them they hoard a cacophony of spectacular lakeland panoramas.
7) Cuillin Ridge, Isle of Skye
View this post on Instagram
You'll need to be cut from the same cloth as Sir William Wallace to tackle this Goliath. It takes a brave (and well conditioned) heart to overcome the 20 mile route, with 22 peaks each seemingly more photogenic than the last. 4,000 metres of ascent and descent is no mean feat, but this is closer to climbing than walking up hill. It's easy to mistake the terrain as that of middle earth and this truly feels like the one ridge to rule them all. Hard training will be needed before arriving, but as with all ridge walks and scrambles, and indeed life in general, the harder the climb the better the view.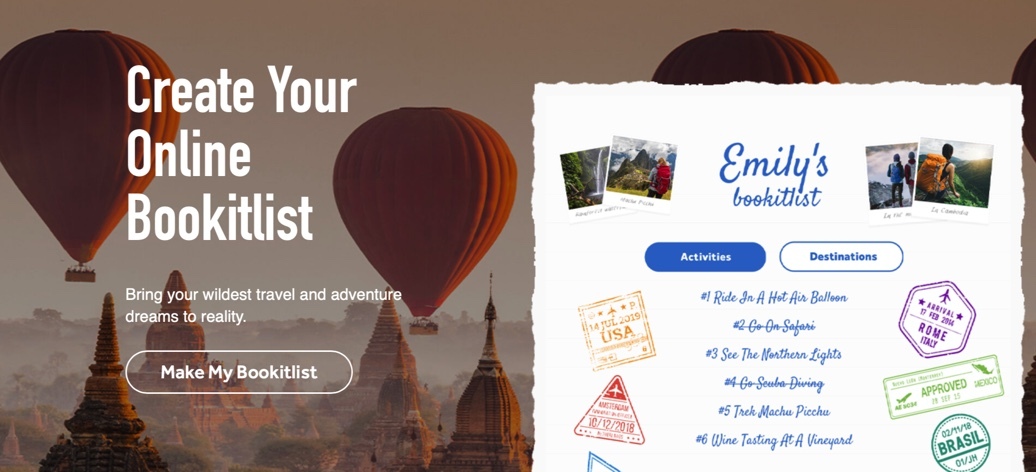 CREATE YOUR BOOKITLIST ONLINE
Most of us have ideas about dream destinations and things we'd like to do in our lifetime, but did you know writing them down makes you 43% more likely to achieve them?! Create your bookitlist and secure discounts on the adventures you dream of!
Write My Bookitlist