The best of Edinburgh Fringe 2021
Following the cancellation of the 2020 edition, Edinburgh's world-famous Fringe Festival returns for 2021 with its most exciting programme yet!
The largest arts festival on the planet, The 2021 Edinburgh fringe will run from 6-30 August and will feature nearly 700 different shows, encompassing theatre, comedy, live music, dance, cabaret & variety, and more, along with the trademark street performances centred around the city's High Street's designated Fringe Safe Street Performance Area, in West Parliament Square.
With so much to see, it can seem a little overwhelming, so we've put together a list of highlights from the festival.
Still (Traverse Theatre)
Theatre
Medicine
Traverse Theatre - Until 29 August

Irish playwright Enda Walsh premieres his highly-anticipated new creation, Medicine at the Traverse Theatre. Starring Dominic Gleason (of Star Wars and Harry Potter fame), and the excellent Aoife Duffin (best known for her role in the hugely successful TV comedy Moone Boy) the play follows two musical theatre actors working in a psychiatric hospital as they role-play the life story of one of their patients.
Still
Traverse Theatre - Until 22 August

Still, the latest offering by Glasgow-based writer Frances Poet tells the story of four different Edinburghites whose lives intertwine. Described as a 'cathartic story of life, loss and joy', it serves as a compelling and fitting tribute to the Scottish capital, that is sure to evoke a complexity of emotions.

Sweet F.A.
Tynecastle Park - Until 30 August

From the producers of the hugely popular A War of Two Halves (which premiered at the 2019 festival) comes another football-themed play in the form of the hugely engaging, and wittily-titled Sweet F.A. Set in 1916, it tells the story of an all-female factory team and their fight for the right to play the beautiful game and is held on a purpose-built stage in the befitting setting of the city's Tynecastle Park (the home stadium of Scottish premier league team Heart of Midlothian).
Medicine (Traverse Theatre)
Comedy
Nish Kumar
Monkey Barrel Comedy Club 16-22 August
Nish Kumar, English stand up comedian and host of various tv and radio shows (including, BBC Two's The Mash Report, the Comedy Central series Joel & Nish vs The World, and Hello America on Quibi) will preview his highly anticipated, and unapologetically political, UK-wide Control tour (set to begin in early 2022), at the city's intimate Monkey Barrel Comedy Club.
Paul Sinha
The Stand Comedy Club 18-21 August

Supriya Kumar "Paul" Sinha, aka The Sinnerman on ITV quiz show, The Chase, and regular performer on BBC radio, will premier his new stand up show Hazy Little Thing Called Love, which according to the comedian himself will cover such subjects as 'family, romance and prosecco'.
Josie Long

Monkey Barrel Comedy Club 23-29 August
Multi-award-winning comedian Josie Long will bring her work-in-progress stand-up show to the Monkey Barrel Comedy Club for the final week of the Fringe. Expect thoughtful and personal takes on subjects like parenting and politics and something she describes as 'silly and experimental', along with plenty of laughs of course.

Other Highlights
London Symphony Orchestra

Edinburgh Academy Junior School, August 19

For one night only, the near-100 strong London Symphony Orchestra
will take the stage at Edinburgh Academy Junior School for what is billed as a 'spirit-raising' show, with performances of classical compositions such as Ibert's Divertissement, Strauss's Le Bourgeois gentilhomme and Martinu's Jazz Suite.
Absolutely Burlesque Cabaret
After selling out in previous years, the Edinburgh-based Sassy School of Homegrown Hotties returns to the fringe for a raucous extravaganza of glamour, glitter, and fun! Billed as 'Sassy, classy, sexy, and funny' the show is sure to be a highlight of the 2021 festival, with organisers saying visitors should expect to be 'enthralled, enticed and entertained'!

Where to stay

The Balmoral Hotel

Enjoy Edinburgh Fringe in style in the historic, five-star, Balmoral Hotel. Situated in the heart of the city, it boasts a Michelin-starred restaurant, a pool, gym and state of the art spa with five different treatment rooms, along with beautifully furnished rooms which blend old-world luxury with contemporary comfort and style.

Motel One Edinburgh-Princes
Set on the world-famous Princes Street in the heart of Edinburgh's historic centre, this highly-rated three-star hotel features great-value rooms with contemporary features and a bar and lounge with views of the city's picturesque architecture.

Castle Rock Hostel
Located a stone's throw from Edinburgh Castle, this highly-rated hostel is perfect for travellers on a tight budget. The dormitories feature bunk beds with bedside lockers and shared bathroom facilities with showers, whilst there is also a cosy lounge with a piano and large sofas, a movie room, and an internet lounge with WiFi.
For more information and to book tickets for the festival, visit the Edinburgh Fringe Website.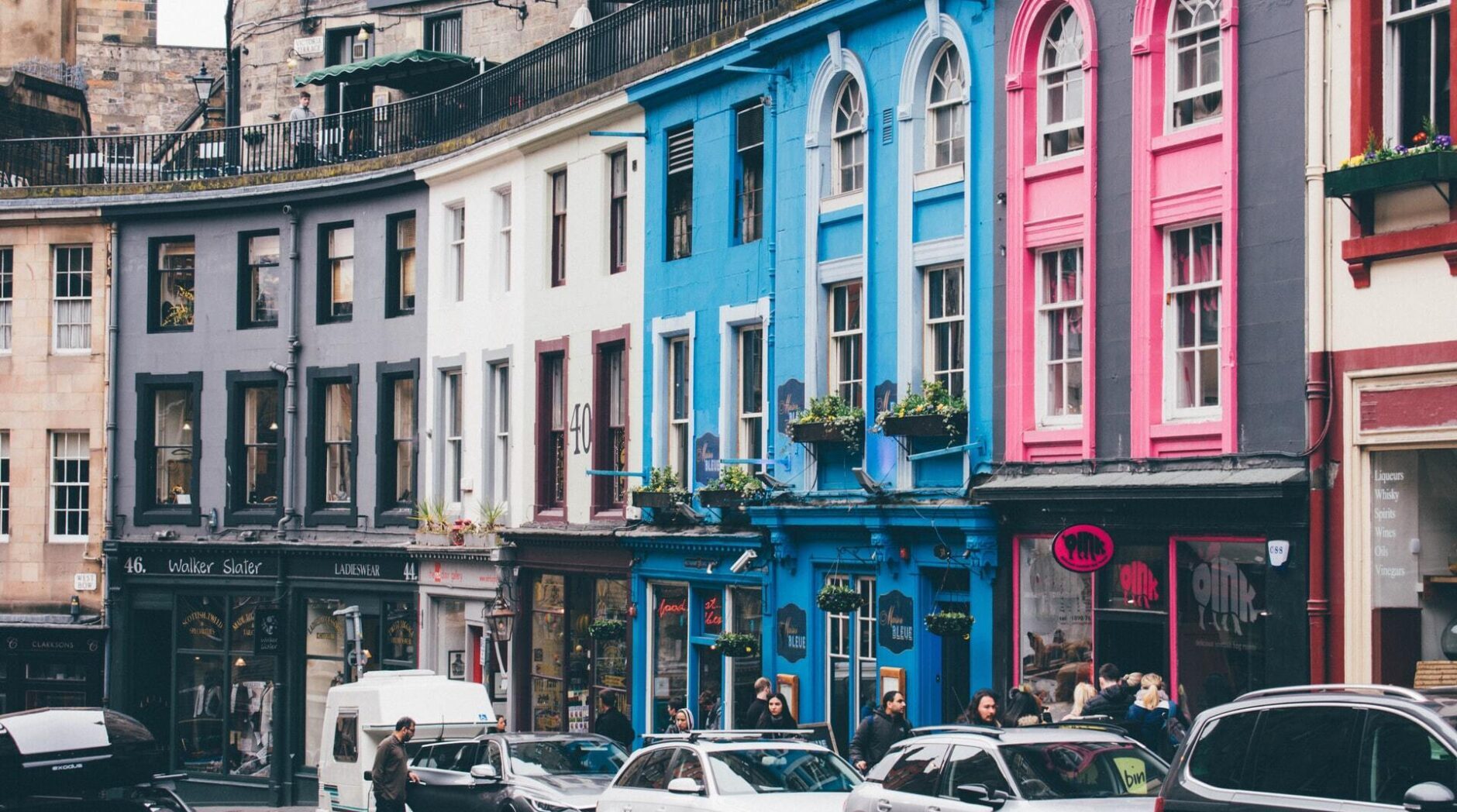 GO TO EDINBURGH
Nicknamed 'The Athens of the North' due to its wealth of stunning historic architecture, the Scottish capital is a beautiful and captivating city, where culture and history collide.
Plan your Edinburgh adventure