Top 10 Destinations To Visit In 2021 Part 2
We're already given you a sneak peek into some of the best destinations for 2021, but we've got more in store. If you haven't yet checked out our Top 10 Destinations To Visit In 2021 Part 1 you can do so by clicking this link. Check Out Part 1 HERE!
The yearning to get out of the country and explore the world again is growing by the week and with travel corridors, vaccines and improved safety measures all playing their part, international travel is back on the up and up. It can still be a little bit of a minefield to know EXACTLY what's going on, and that's why our travel experts have been digging through the weeds, reading the small print and compiling a list of the best destinations for 2021.
We've considered the current and pending travel status of the countries, the quarantine rulings, the safety protocols and the quality of the destination to comprise our list. If you're ready to live for travel once again, don't give up hope, check out our Top 10 Destinations To Visit In 2021 Part 2!
1) Cappadocia, Turkey
View this post on Instagram
For Adventure: Cappadocia is simply stunning. The hot air balloons that illuminate the skies can give you a neck ache from looking up in awe at them for so long. The underground cities caved churches and sumptuous, regional cuisine would be epic enough on their own but with the world-famous skyline above, Cappadocia transcends normal measures of beauty and becomes a truly magical place. It's a great destination for solo travellers, couples and families alike.
2) Vietnam
View this post on Instagram
For Adventure Backpackers: A cultural collage that captivates, Vietnam is quickly becoming South East Asia's most adored destination. Halong Bay provides breathtaking limestone islands with a sumptuous seascape for a backdrop. Hanoi delivers a torrent of bikes and human traffic marinated with the smell of world-renowned street food. Phong Nha-Ke Bang National Park gives a glimpse into the enchanting cave networks that help you unplug and reconnect with nature.
Don't just see Vietnam, hike through its paddy fields, pedal through its French colonial quarters and kayak through it's spectacular Ha Long Bay!
3) Bora Bora
View this post on Instagram
For Beaches And Indulgence: A tantalising blend of picturesque white beaches, coral-rich turquoise lagoons, and rainforest coated mountain peaks, Bora Bora truly embodies the breathtaking beauty that defines French Polynesia. Welcome to ocean waters clear enough to see a diamond sinking, tranquil lagoons, volcanic peaks and a verdant lush island setting that will wash away your worries in sync with the rhythmic pulse of the tides. Our Bookitlist 7 Night Serenity Escape In Bora Bora has been deliberately designed to create an oasis-like escape like no other.
4) Rome
View this post on Instagram
For A Culture Filled City Break: Rome is not just another city break, it's an ornate masterpiece teeming with ancient wonders and artistic gems that Michelangelo would be beaming with pride to have played a small role in. There are 101 reasons why people go to Rome, so it's incredibly difficult to narrow it down, but mainly it's for the awe-inspiring Roman ruins, architecture and famous works of art.
We've rummaged through the rubble first hand, and explored Rome in it's entirety isolating only the most freddo (Italian word meaning cool) activities and experiences, so you can indulge in an extended weekend of delights and discovery.

5) Tanzania
View this post on Instagram
For Nature & Wildlife: One of Africa's foremost Safari destinations, Tanzania is home to over 4 million wild animals, with 430 different species represented, including, one of the largest populations of lions in Africa, along with hippos, crocodiles, zebras, giraffes and leopards.

From Wildlife safari drives in Masai Mara National Reserve and guided mountain gorilla treks in Bwindi to tea plantation visits, there's a lifetimes worth of adventure in this East African expedition.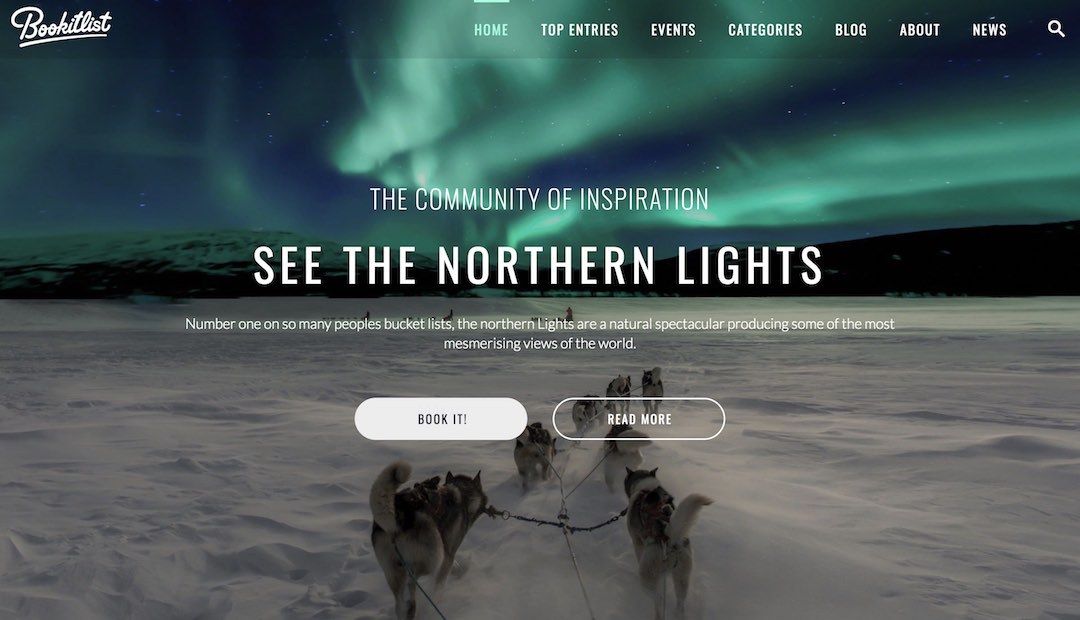 Make Your Bookitlist Now and earn £100 off your first Bookitlist trip!
Did you know you can make your online Bookitlist in minutes? You can pick your favourite travel categories, and then pick activites you have completed or wish to complete. It's a fun quick way to make your Bookitlist today! Once you make your list, you can book with discounts, and live for adventure.
MAKE MY LIST